Small Batch, Big Flavors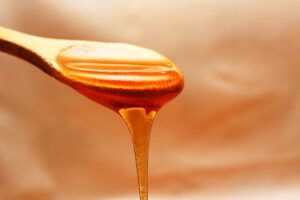 We are specializing in small batch quantities of 50-125 gallons to better ensure a high quality product. In using a variety of Virginia products, we will be helping the local small produce farmers of the highest quality fruits and herbs. These small batches will allow us to be very experimental in the mixture of herbs and fruit to create some new mead blends. This will allow us to expand the traditional meads with one eye in the past and one eye on the future of mead making.    
Each small patch is fermented with Virginia Finest honey and aged for 3 months to a year to achieve the best quality of each individual flavor.  Each season, we harvest locally grown products to create amazing meads with variety of robust flavors. At Haley's Honey Meadery, we ferment in one large tank (265 gallons) and then divide the fermented honey into smaller tanks to blend with fruits and herbs to age. This gives us the ability to make 5 different and unique flavors at a time, many of which will be seasonal.   We are a small batch Urban Meadery in Hopewell, Virginia. We take pride in fresh ingredients, supporting our local farmers, and keeping it small with big flavors.
Small. Local. Family Owned.